September is just days away which means it is time for the 17th Annual Festival of Children at South Coast Plaza.  A family-friendly destination of entertainment and shopping on any normal day, South Coast Plaza is teaming up with the Festival of Children Foundation to bring in even more fun in order to celebrate "the magic of childhood and the charities that work tirelessly to improve the lives of children across Southern California."
The Festival runs from September 1st to September 23rd with almost all activities taking place on the weekends, and it is all FREE.  Some of the featured activities include:
Opening Ceremonies: Saturday, September 1, 12:00 pm – Welcome by FOCF Founder and Executive Director Sandy Segerstrom Daniels, and featuring Kodi Lee and The Hi-Tops.
LEGO: Every Saturday during the Festival, 2:00 pm to 4:00 pm – Free mini LEGO build activities (while supplies last).
Back-to-School Fashions: Sunday, September 2, 11:30 am – A classic fashion show featuring local children of all ages modeling the latest fashions from South Coast Plaza retailers.
Coffee, Tea, Mommy & Me: Each Friday during the Festival at 11:00 am – Free educational presentations about home safety, vehicle seat safety, nutrition, water and safety, and followed by arts and crafts or music. Coffee and tea hosted by Corner Bakery.
Dance: Each Saturday and Sunday during the Festival, various times – Ballet, Hip-Hop, Classical Korean, Chinese, Flamenco, Irish, Hawaiian, Contemporary, and more.  Check in HERE for a detailed schedule.
Arts & Crafts: Every Saturday and Sunday during the Festival, Noon to 4:00 p.m. – Free crafts for kids courtesy of: Art4Kids, Child Creativity Lab, and Paint For A Purpose (while supplies last).
CanstructionOC: CanstructionOC returns to the Festival with nine extraordinary sculptures made entirely of canned food items. Designed and constructed by several local companies, the sculptures are disassembled at the close of the festival and more than 56,000 cans of food are donated to the Orange County Food Bank to help feed the county's estimated 350,000 people of all ages, who struggle with hunger each day. This year's teams include: Architects Orange, CDPC | BergmanKPRS| raSmith, Disneyland Resort | Design & Engineering, Little, OCJ Stars, Perkins Eastman | Dougherty, PJHM Architects, SoCalGas, and SVA Architects.  **These sculptures are super cool to look at.  They are so creative!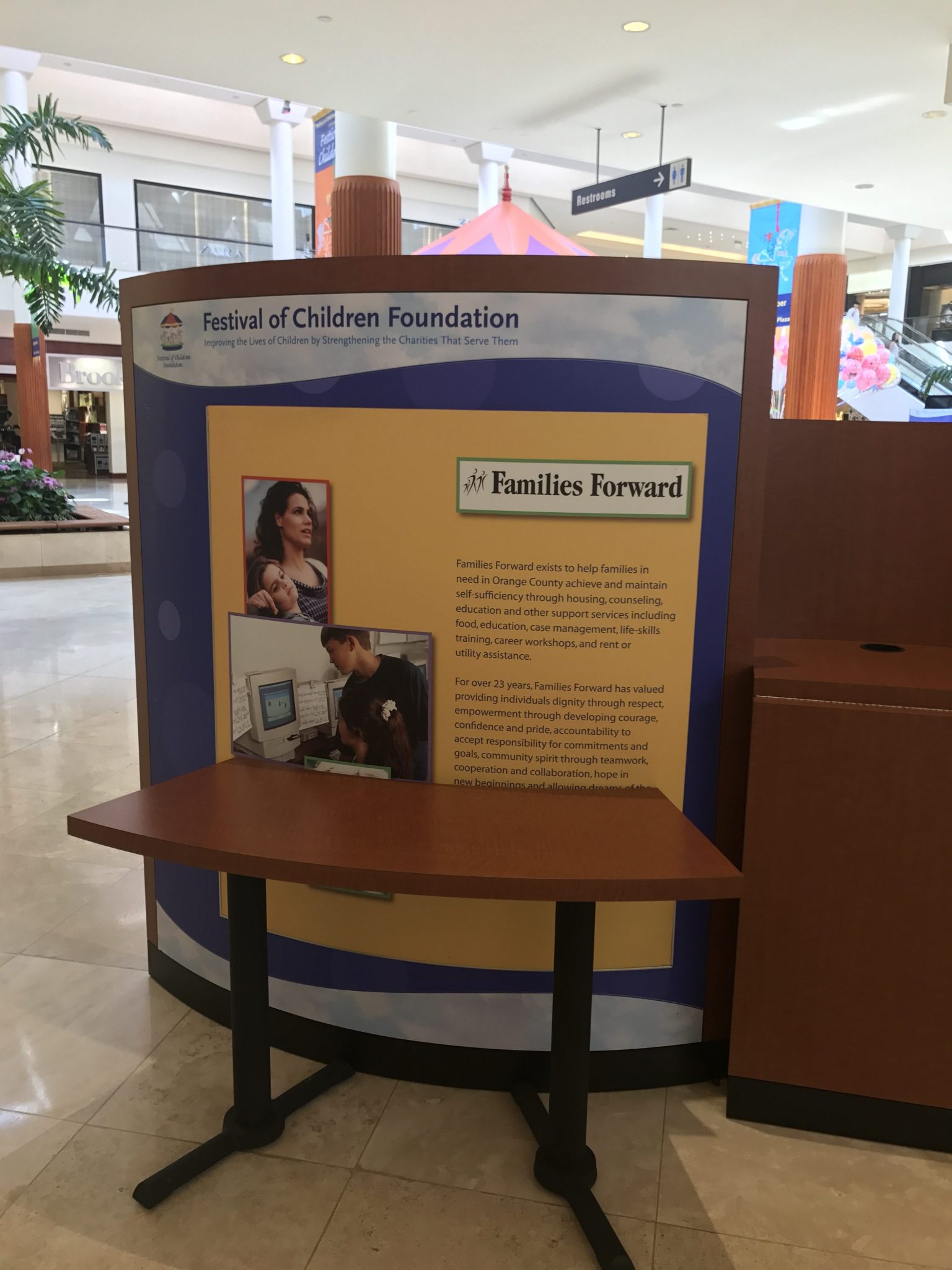 Don't forget to stop by any of the 70 local children's charity displays that will be set up throughout the mall.  I snapped this picture last year of one of my personal favorites – Families Forward.