Now that I am a mom, I have called my own a few times to say "I'm sorry, I understand now." There are just some things we don't understand as kids, and one of those things is family photos. I didn't want to get dressed up for them, brush my hair, or even be in them half the time as a kid, but I can now, without a doubt, say they are by far the most valuable thing from my childhood. Thanks mom!
So this year, I had my heart set on getting some family photos of my own. Part of me wanted take the easy way out and just get photos done of my kids (I'm definitely way too critical of myself in pictures), but having had some photos taken of the girls in years past by Austin at Classic Kids in Newport Beach, I knew she could handle us/me.
We set up an appointment and she gave me some wardrobe suggestions, a few color combos that worked well, ideas for a casual and a dressy shoot, and we were off. Thank goodness for her guidance.  It was one less thing for me to have to figure out.
Austin and her assistant Presley were all ready for us when we arrived at the studio where she expertly got my kids to loosen up and relax (a few fart jokes had my kids in hysterics). Even my non-cooperative older child who did not want to wear jeans, smiled for Austin. We did individual shots, sibling shots, and the family shot. We changed outfits once, and took pictures in color and black and white. As we headed out the door even my husband said with incredulousness "that was pretty easy."
A few weeks later I dropped by the studio to pick out my favorites. I was excited to find that they have a large television screen up on the wall that displays all of the pictures side by side for easy reference. Austin worked with me to help narrow down the options to my top favorites (sometimes it was a very subtle difference between each shot). And now, not only is my Christmas card ready for this year, but I have the family photo I have been wanting for years!
And as Christmas approaches, I made sure to check a few people off my list (ie. grandparents) who want nothing more than those photos (and maybe a good ole' "You were right mom."). Classic Kids specializes in fine art and archival products that last a lifetime. The prints are on 100% cotton paper, with rich layered ink and hand torn edges. They also hand make silver soldered frames that come with artisanal glass stands – truly a work of art (and the perfect gift). From a little gift print for grandma, to a huge canvas gallery wall up your stairs – Austin will help you get these images into your lives.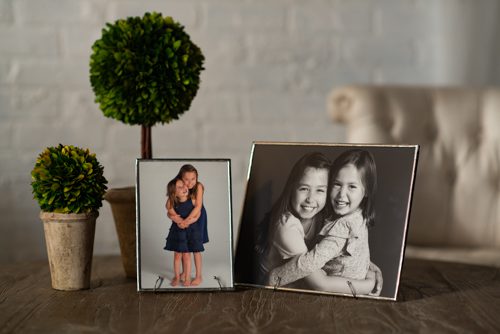 Classic Kids is located in the Corona del Mar Plaza in Newport Beach. Give Austin a call or book here, she'd love to meet you.
**This post was sponsored by Classic Kids.